We're local and we like to support local. We especially like to EAT local. Every month we send a staff member or two out to try a locally owned Miami Valley restaurant, then share the experience here with you.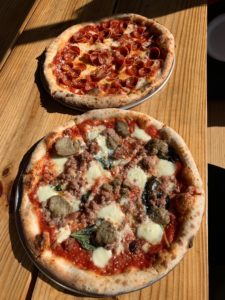 Old Scratch Pizza – 812 S Patterson Blvd, Dayton, OH 45402 – www.oldscratchpizza.com
Old Scratch Pizza is known for made-from-scratch wood fired pizzas and fresh ingredients. They offer anything from classic pepperoni, "The Dayton," to pizzas with gourmet toppings such as prosciutto and arugula. Appetizers are not the traditional pizza chain fare. Instead, Old Scratch features whole roasted cauliflower, meatballs, and oven roasted olives.
When we arrived for lunch, the downtown location had just opened, so we did not have to wait long to place our order. I ordered The Dayton, which only comes in one size. It was more than enough to share with another person. Diedra ordered The Brooklyn, which features their house-made meatballs and sausage. We also ordered dipping sauce for the crust. We both chose garlic butter – marinara sauce and ranch are also available.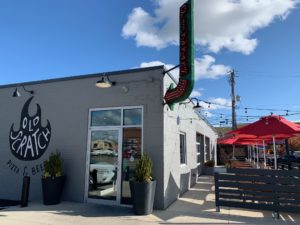 The crust is thin and true to Neapolitan-style pizza. Both were cooked perfectly and with a freshness you could taste. If you are in the Dayton area and looking for fantastic pizza, you can't go wrong with Old Scratch Pizza! If downtown Dayton is too far, they have just opened a Centerville location – 440 Miamisburg-Centerville Rd., Centerville, OH 45458 – this week.
Reviewed by: Amanda Dancy & Diedra Howell