We're local and we like to support local. We especially like to EAT local. Every month we send a staff member or two out to try a locally owned Miami Valley restaurant, then share the experience here with you.
Rivertown Brewery & Barrel House – 6550 Hamilton Lebanon Rd., Middletown, OH 45044 – www.rivertownbrewery.com
Rivertown Brewery, located in Middletown, Ohio, is a family owned independent craft brewery with a full-service kitchen serving BBQ favorites.
Being that is was October during my visit to Rivertown, I naturally ordered their seasonal Oktoberfest to drink. We were served complimentary cornbread with bread and butter pickles that paired quite well together.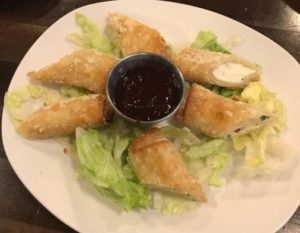 We started with some appetizers – Bacon Jalapeno Wontons and Burnt End Deviled Eggs. The wontons were packed full of cream cheese, bacon, and diced jalapenos. The bacon offered a wonderful smoky/sweet flavor that was complimented with the slight heat of the jalapenos. They were served with a blueberry dipping sauce that I enjoyed, but I don't think would be for everybody. The Burnt End Deviled Eggs are as good as they sound – split eggs with a tangy filling topped with burnt ends. Given enough time, I could have put down more than Cool Hand Luke.
For my entrée, I switched from the Oktoberfest to the Hopbomber IPA, which in a sea of IPA's, was above average. For my meal, I choose the burnt ends with a side of fries and coleslaw. The burnt ends had a simple salt and pepper rub and were braised in a sweet and savory BBQ sauce. They were perfectly tender, and the simple rub played through the BBQ sauce. The combination was delicious. My guest played it safe and went with the hamburger and French fries. It was hamburger, nothing more nothing less.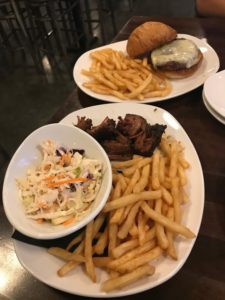 After dinner we treated ourselves to one more beer and few matches of Mortal Kombat on one of the free arcade machines in the game room.
Reviewed by: Brian Bulgrin