If you know Chris Small, you know he is a big guy with a big appetite!  Chris loves eating out at the many great locally owned restaurants and pubs in the Miami Valley.  Each month he'll share one of his favorites with you.
Salar – 400 E. Fifth Street • Dayton, Ohio 45402 – www.salarrestaurant.com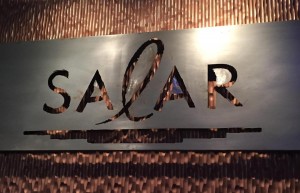 Salar is located in the heart of the Oregon District and features an exciting menu of World-Fusion cuisine with strong French, Peruvian, and Mediterranean influences. They offer an extensive selection of hand-crafted cocktails featuring fresh squeezed juices, fresh fruit and herbs, and only the finest spirits. Salar is a reasonably priced, upscale, yet casual style restaurant. They have created a unique dining experience with two outdoor patios, two full bars, a main dining room with full-wall windows looking out onto the Historic Oregon District, an intimate lounge space, and a private dining room.
At Salar, their interest clearly is in serving you. Upon arrival, you will be greeted at the street by the valet staff, ready to assist you. Valets will park your car at a safe, nearby location and return it to you at the end of your dining experience. I definitely recommend taking advantage of their free valet parking service.
When having dinner at Salar, I always enjoy one of their unique fresh craft cocktails. Each recipe uses only the freshest ingredients and was created by World Renowned Master Mixologist, Brian Van Flandern with Chef Blondet's amazing cuisine in mind. I recommend stopping by Happy Hour Monday through Thursday between 5:00 and 7:00pm.
I like to start my meal with their Baked Scallops Parmesan & Rocoto Sauce. These wild caught jumbo sea scallops are served on the shell with rocoto pepper sauce, parmesan cheese, butter and a splash of fresh lime juice.  If you are in the mood for salad, I recommend the Seared Ahi Tuna Salad featuring 8 ounces of wild caught yellow fin ahi tuna steak, spring mix greens, yellow beets, shredded carrots, fried wantons, and chipotle cream dressing.  It's pretty amazing.
Salar also offers great steaks, lamb, pork chops, poultry, and seafood. And if none of that sounds good to you, they also feature some delicious artisanal pizzas. I hope you'll enjoy Salar as much as I do, but don't forget to make reservations!