If you know Chris Small, you know he is a big guy with a big appetite!  Chris loves eating out at the many great locally owned restaurants and pubs in the Miami Valley.  Each month he'll share one of his favorites with you.
Siam Pad Thai – 3027 Wilmington Pike, Kettering, OH 45429 – https://sites.google.com/site/siampadthairestaurant/home
I often talk to people about the restaurants around Dayton they like.  It gives me new ideas of places to review. Siam Pad Thai has been mentioned often, so I decided to give it a try for lunch.
I judge a lot of places by how full the parking lot is. This lot was packed, but I was lucky enough to find a spot. Upon entering, I spotted an empty seat at the counter. As soon as I sat down I was greeted. A regular diner sat down beside me and exclaimed again how good the food is.
As I looked over the menu, I decided to start with an order of soft rolls. These fresh rice rolls contain shrimp, lettuce, rice noodles, cilantro, and basil and comes with a light tamarind sauce for dipping. They were excellent!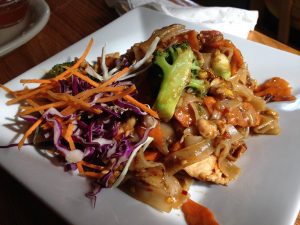 I asked my server what she recommended as an entrée.  On her suggestion, I ordered cashew chicken which was cooked in a Thai chili sauce with water chestnuts, baby corn, bell peppers, carrots, onion, mushrooms, cashew nuts, and dried red chilies and served with white rice. When she asked what spice level I preferred, I decided 4 should be perfect. My meal arrived quickly and was very tasty, but I quickly thought, "wow, maybe I should've gone a little lighter on the spice." The more I ate, the warmer it got.  Just then, I overheard the server taking another patron's order and saying the spice level goes from 1 to 4, with 4 being the hottest. I had assumed that the spice level was 1 to 9!
The service was great, and they kept my water glass full. And the food was amazing! I highly recommend you try Siam Pad Thai…just remember those spice levels!! I hope everyone has a great July 4th holiday!