We're local and we like to support local. We especially like to EAT local. Every month we send a staff member or two out to try a locally owned Miami Valley restaurant, then share the experience here with you.
Tickets Pub & Eatery – 7 W. Main Street, Fairborn, OH 45324 – http://www.ticketspub.com/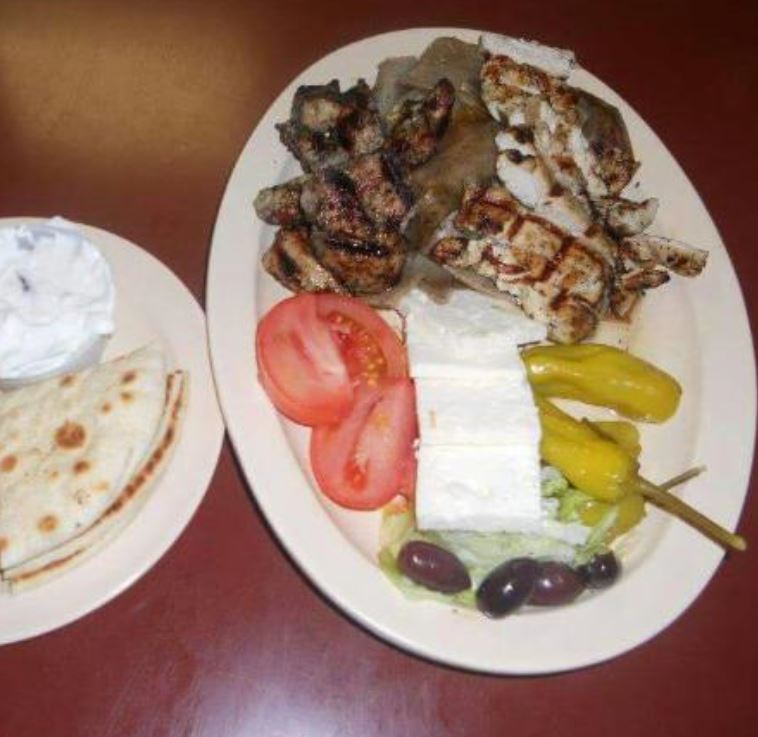 You've had a long day at work, and no one wants to cook. Forget the typical fast food joints. Tickets Pub & Eatery in downtown Fairborn will fit the bill.
Tickets is a family owned and operated sports bar/restaurant specializing in Greek dining. Owned and operated by the Zavakos family from Petrina, Greece, Tickets has been a staple in Fairborn since 1990.
In February 2018, Tickets took second place in the Dayton Daily News "7 of the best places to eat and drink while watching the game in the Dayton area" poll. Our feature restaurant last month, Mr. Boro's Tavern, placed seventh.
My family stopped for dinner on a Tuesday night. The atmosphere was quiet and calm; the decor was as expected for a sports bar. However, I did see a photo of John Wayne on the wall, which was a nice touch. The music playing over the speakers wasn't overly load and was pleasant. The music ranged from Chicago to Meatloaf to AC/DC.
I ordered the Souvlaki dinner, which was delicious. It is a marinated charbroiled pork tenderloin with feta cheese, tzatziki sauce and pita bread on the side. I combined this with a small Greek salad, which is rivaled by no one.
My wife decided on John's House Steak, which is a tender 10-ounce marinated sirloin charbroiled to perfection. She was not disappointed.
Our daughter, the chicken wing connoisseur, ordered the hot wings. They are always fresh and hand breaded right when you order them. They may take a little longer to cook, but they are definitely worth the wait. She gave it top marks. The portions were large enough to bring home and enjoy later.
For dessert we each had our own house-made baklava. I can't describe how delicious this was. At just shy of $9 each, it was definitely worth the additional cost. Tickets offers up a full bar, which will satisfy anyone's thirst.
Whether you are looking for a great dinner spot or a place to watch the game, Tickets is an excellent choice.
Reviewed by: Ben Graves