If you know Chris Small, you know he is a big guy with a big appetite!  Chris loves eating out at the many great locally owned restaurants and pubs in the Miami Valley.  Each month he'll share one of his favorites with you.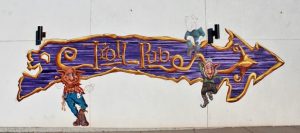 Troll Pub at the Wheelhouse – 216 Wayne Ave., Dayton, OH  45402 – www.trollpub.com
History of 216 Wayne Ave & The Troll Pub
The Troll Pub at the Wheelhouse is located at 216 Wayne Ave which is an extension of the Oregon District east of downtown Dayton, Ohio. The building was first built in 1868 to become the Weustoff & Getz factory. In 1875 the building was incorporated into the Farmer's Friend manufacturing company which was the 3rd largest producer of agricultural implements in Ohio during the 1870's and operated until 1895. The building was then transformed into the Stoddard Manufacturing Company / Stoddard Bicycle Company which sold around 40,000 units in the first five years of operation.
Moving forward a few years to 1904, the building was used as Dayton's first automobile manufacturer which began delivering cars. In 1905 the Kinsey Manufacturing Company called the building home until 1909, which manufactured parts to be sold to the Dayton Motor Car Company. From 1909 to 1912 the building then housed the Courier Car Company, a subsidiary of Stoddard, which produced 1000 automobiles in 1910 to compete with the Ford Model T.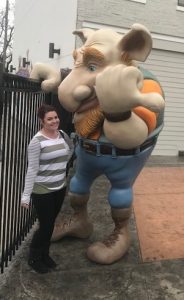 Throughout the years and leading up to 2013 the building was home to a number of furniture and plumbing companies before the property was sold to the city of Dayton. In 2017 the building was purchased by a group of local investors with a vision to transform the property into apartments, retail space, and now the home for The Troll Pub at the Wheelhouse. We have repurposed wood taken from the ceiling to make table tops for our dining rooms, hand selected from the early 1900s and had custom chandeliers constructed out of old wagon wheels to pay homage to the Wheelhouse Building.
As I've gotten older, I've grown to really appreciate old buildings and history. This wasn't always the case, as I spent my childhood until age 18 living in an old farmhouse. The home my siblings and I were raised in was built in 1848. I think I learned to putty windows when I was 6 years old! While there was a lot of work, I appreciate how much I learned growing up there.  I have many fond memories of older houses, barns, and buildings that have been torn down and even more so of those that have been saved.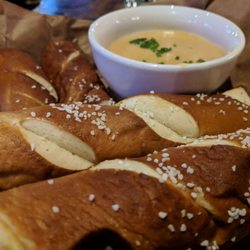 As The Troll Pub has just recently opened (on St. Patrick's Day), I've only been there once but was very impressed with ambiance and the beauty of the place. They have a beautiful large bar with a lot of great beers on tap. As a starter we chose Louie the Troll's Signature Beer Cheese.  Excellent comfort food on a gray spring day, this cheese dip is made with Shiner Bock and Sierra Pale Ale and served with warm, soft pretzel sticks. For an entrée, I tried a pub classic – fish and chips.  The Troll Pub serves up 10 ounces of beer battered and golden fried Atlantic Cod tail with Troll Fries, coleslaw, and jalapeno tartar sauce. My fish was awesome, but I didn't care for The Troll Pub's take on coleslaw.  My partner opted for the strip steak. It was a lean and tender 10 ounce cut, cooked to your liking, and served with chef's vegetable and garlic mash. This was very good!
Overall, we felt the staff, service, ambiance, food, and drinks were great. I hope you'll try it out and enjoy yourself as much as I did! Until next time…