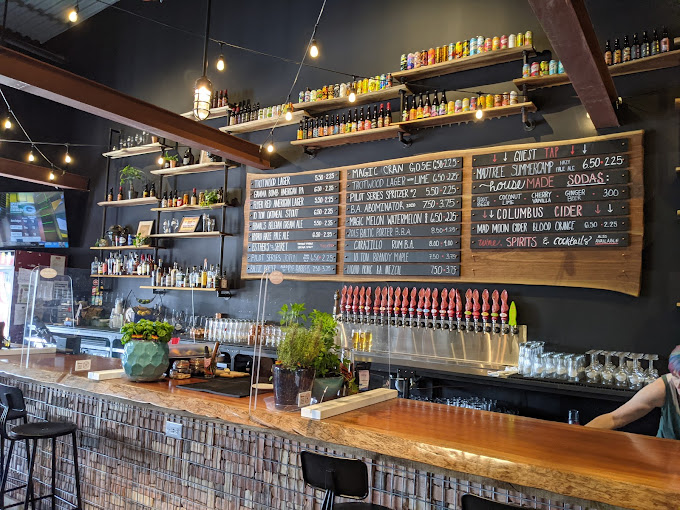 Warped Wing Barrel Room & Smokery – 25 Wright Station Way, Springboro, OH, 45066
Warped Wing Brewery opened in Dayton in 2012. Since then, it has grown and opened multiple locations in the surrounding area. They take their inspiration from innovation and invention. Their name and logo were inspired by the Wright brother's "wing warping" system used in fixed-wing aircraft.
The interior of their Springboro location is uniquely industrial, featuring exposed steel beams, red brick, and sheet metal. The bar is a 30-foot solid slab of live-edged wood. In warmer months the outdoor seating area is accessed by glass roll-up doors.
Their tap selection covers just about anything you could want in a beer. They have their regular offerings as well as some choices that change frequently. I ordered a barrel-aged stout called the 2022 Whiskey Rebellion. It is a Russian imperial stout served in a 12oz glass. If you like bold, strong coffee, this beer is for you. It is a thick beer with flavors of chocolate, vanilla, and a lingering taste of bourbon. I'll keep an eye out for this one when cold weather returns.
The food served here is outstanding! They offer appetizers, soups, salads, wings, burgers, and more.
The smoked wings and BBQ burger were picked for our meal. The wings were crispy with a flavorful and spicy sauce. The burger is a half-pound patty cooked to your liking and comes with bacon, onion straws, cheddar cheese, and sweet BBQ sauce. Both the wings and burger were excellent, not many places if any would beat it.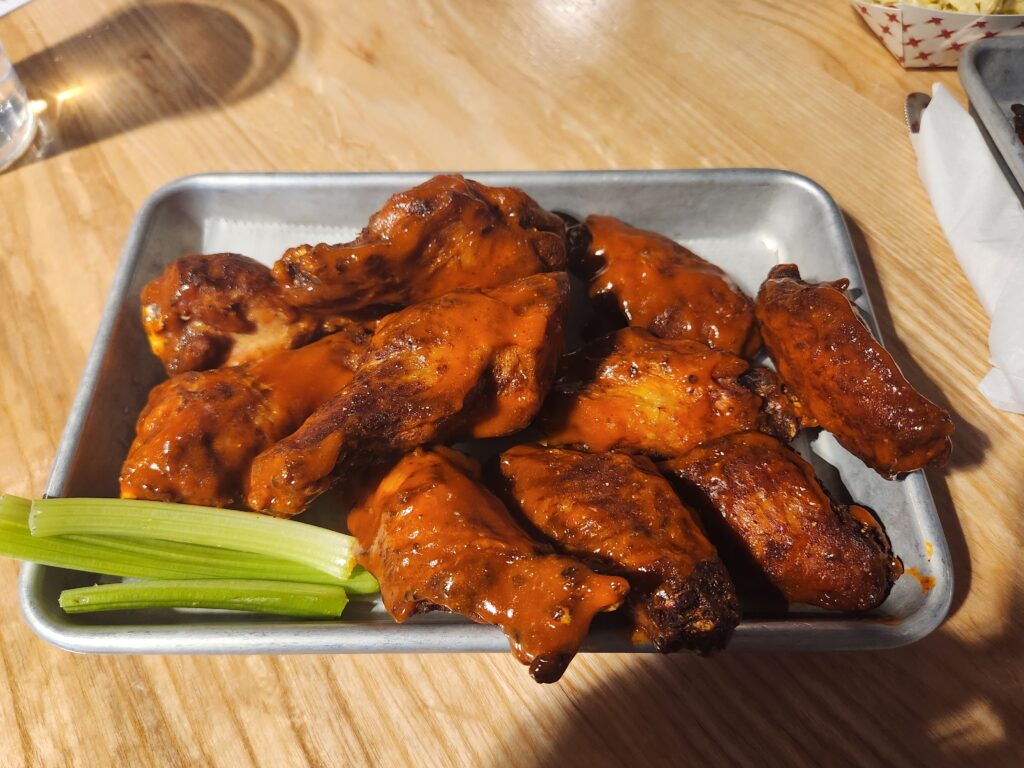 If you are stopping in Dayton for a bite to eat, I highly recommend you try Warped Wing Barrel Room & Smokery the next time you visit!
Reviewed by: Matt Happensack