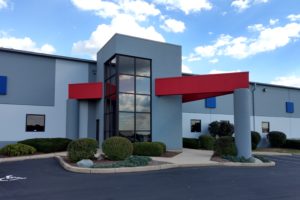 In the past year we have been busy making improvements to our facility.  With the popularity of our training classes, adding additional parking became a necessity.  Repairs to the existing lot, re-coating, and re-striping were also undertaken at this time.
With our high visibility from I-75 at Austin Boulevard, we also thought it was appropriate to make some improvements to the outside appearance of our facility.  A new paint scheme, incorporating our company colors, was completed within the last few months.  Check us out when traveling I-75!
And if you are coming by for a visit, keep in mind that there is a new road, Nikolai Boulevard, that allows better access from Byers Road to our facility on Old Byers Road. Nikolai Boulevard will also take you past the new United Grinding building.
Contributed by:
Paul Drerup
Operations Manager