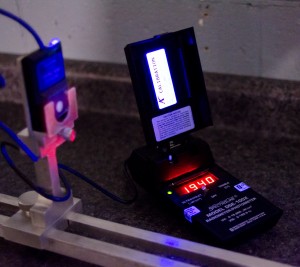 When our Calibrations Lab was created in 2010, the biggest need to fill was caring for our own non-destructive equipment calibrations. Very quickly, we were able to offer those calibration services to others.  Over the last six years, the offerings of our Calibrations Lab have continued to grow.
In addition to being an accredited ISO 17025 calibration lab servicing a wide variety of magnetic particle, liquid penetrant, and radiographic inspection equipment, the ATS Calibrations Lab sells products from both Spectronics Corporation and Parker Research Corporation.
Parker offers magnetic particle inspection instruments and accessories while Spectronics manufactures a wide array of medium and high-intensity inspection lamps and light meters, replacement parts, and accessories.   Recently we are hearing that many in the industry are having trouble finding a source to calibrate Spectroline (Spectronics) radiometers / photometers including the AccumaxTM and AccuproTM light meters.  Be assured that we are able to calibrate and adjust these meters to the appropriate qualifications.
Likewise, our Calibrations Lab staff rehabs used equipment, which is available for sale on our website.  Where appropriate, an ISO 17025 accredited calibration is provided with each piece of used equipment.  There is no need to buy new when you are able to buy a perfectly good used item at a fraction of the cost.  If you are in the market, be sure to visit this area of our site often, as equipment can come and go quickly.
Maybe you need a piece of equipment that we don't have for sale. Maybe you have a piece of equipment that you'd like to get rid of.  Our Calibrations Lab staff can still help!  We offer NDT equipment brokering to your specifications.  Whether you need to buy or sell, allow us to help by taking on the leg work.
Please contact Tim Davis, Calibrations Lab Manager, with questions regarding any of the Calibrations Lab Services. Tim can be reached at 937-298-9390 or via email.