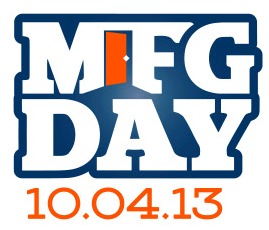 Join us on National Manufacturing Day for an open house from 1:00 – 4:00 PM and a chance to see HOW we do WHAT we do!
Are you…
A student?
A parent of a student?
An adult employed in a non-manufacturing job?
And interested in exploring a career with great possibilities?  Then Manufacturing Day is for you!  You'll learn…
What modern manufacturing facilities are really like
What the companies located in your community make and who they sell to
What kinds of joibs are available in manufacturing
What skills and backgroud are needed to qualify for today's manufacturing jobs
Students under age 18 must be accompanied by an adult or participate as part of a school group.  RSVP's are appreciated so that we can plan appropriately.  Contact our office via email at info@americantestingservices.com.
Get more information on Manufacturing Day by visiting www.mfgday.com.