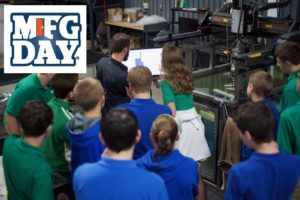 How do you get young people interested in manufacturing?  It's a question that's asked often.
Our answer?  Show them.  Show them what you do.  Show them how you do it.  Show them why it makes a difference.
That's the purpose of MFG Day (happening on Friday, October 6) – to show students the opportunities the manufacturing industry can offer them.  Along with hundreds of companies across the US, Canada, and Mexico, we will welcome students into our facility to see what we do first hand.
We have some space available for afternoon visits. If you know a school that is interested in participating, please contact us.  Home school families are also welcome! Get more details about our event on the MFG Day website or email us.