What exactly IS Manufacturing Day?
Started just a few short years ago as an annual event that occurs on the first Friday of October, Manufacturing Day is an occasion during which North American manufacturers open their doors to showcase the potential of modern manufacturing and foster interest in manufacturing careers.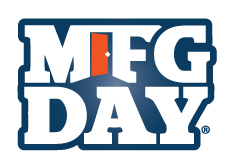 We are excited to welcome students and educators to our facility on Friday, October 2nd!  During MFG Day, we will be hosting scheduled facility tours with inspection demonstrations for school groups from 9:00 AM to 2:00 PM.  To schedule a tour, please call Joy McMeekin at 937-298-9390 or contact via email.  All guests should wear closed toe shoes.  Safety glasses will be provided.  Depending on group size, we may be able to provide a space for eating your brown bag lunch.
From 3:00 PM to 5:00 PM, we will be open to the public for facility tours and demonstrations.
For more information on MFG Day, visit www.mfgday.com.
To see our event on the MFG Day site and register online, click here.
We also recommend you watch this very cool video produced by the Rock MFG Day promoters!