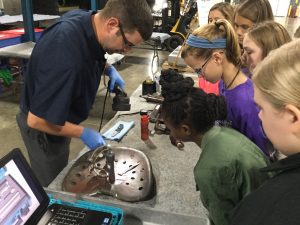 ATS is proud to be participating in MFG Day for the fifth time.  This year's event takes place on Friday, October 5.  MFG Day is a national movement lead by the National Association of Manufacturers and the Manufacturing Institute. It is a chance to open the doors of our nation's manufacturing companies and open the minds of the public regarding what manufacturing looks like today. Our goal is to inspire more young people to pursue careers in our industry.
A recent study by the Manufacturing Institute and Deliotte revealed that more than 8 out of 10 Americans acknowledge the importance of the manufacturing industry but less than one-third of those surveyed would encourage their children to pursue a manufacturing career due to concerns around job security and stability, weak career paths, and poor pay.
As anyone close to the modern manufacturing industry knows, these concerns couldn't be further from reality!
The average tenure of workers in the manufacturing industry is highest among all private sector industries at 9.1 years.
Modern manufacturing also has one of the lowest employee turnover rates among all private-sector jobs at 2.3 percent.
The average manufacturing worker in the U.S. earns almost $20,000 more than the average employee working in other industries.
Get all the details for our 2018 MFG Day event here.  We are now registering middle and high school groups, as well as home school families. Please spread the word if you know a group that would like to visit us!
Are you a Dayton area company that would like to learn more or get involved with MFG Day?  Locally, MFG Day is coordinated by the Dayton Region Manufacturers Association.  Contact them here.
Just want some more details on MFG Day in general?  Visit www.mfgday.com.