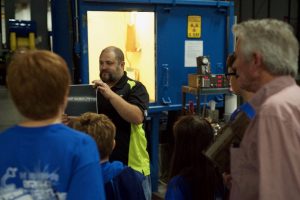 October 7th was an exciting day at American Testing Services.  Nearly 150 students and teachers visited us for MFG Day – a national celebration and showcase of the manufacturing industry.  Held annually on the first Friday in October, MFG Day is an opportunity to show our community what manufacturing is, as well as what it isn't, and to introduce the next generation to the possibilities available to them in this industry that is foundational to the American economy.
Thanks to the coordination of the Dayton Region Manufacturers Association, the Dayton region had MFG Day participation from 54 host companies and over 4,500 students representing at least 54 schools. Those numbers make Dayton one the best MFG Day locations in Ohio and the country!
If you are a manufacturer and have not yet gotten involved with MFG Day, we encourage you to participate! Visit our Facebook page to see photos from this year's event.