We are pleased to announce that American Testing Services is now a distributor of Magnaflux inspection chemicals.  We use Magnaflux products in our own magnetic particle and liquid penetrant departments and are very pleased with the product quality. Products available include: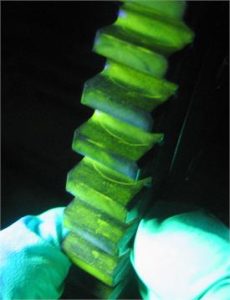 Liquid Penetrant
Water Washable Fluorescent Penetrants
Post Emulsifiable Fluorescent Pentrant
Water Based Fluorescent Penetrant
Visible / Color Contrast Penetrants
Developers
Emulsifiers / Removers
Magnetic Particle
Fluorescent Magnetic Particles
Colored Particles for Wet Method
Colored Particles for Dry Method
Suspension Vehicle
Contrast Paint
Water Conditioners & Additives
For specific product information and pricing, contact Ben Graves at 937-298-9390 or via email.
While using quality inspection products certainly makes a difference in the probability of detecting flaws, so does brightness, contrast, and the influence of neighboring objects.  Read this informative article from our friends at Magnaflux.