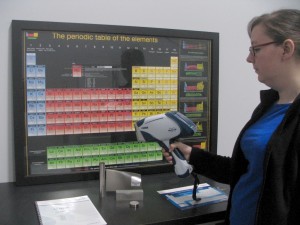 American Testing Services is pleased to announce that beginning in January 2016 we are offering Positive Material Identification Services (PMI) using the Bruker S1 Titan hand held, portable x-ray analyzer. This non-destructive means of chemical analysis provides a quick, positive method of material identification and sorting. Whether you have an assembly that you wish to have the alloys verified prior to shipment or bar stock in your warehouse that has been mixed or misidentified, this portable analyzer provides the perfect solution.
The S1 Titan uses a small internal X-Ray tube as an excitation source with a small focal spot. It is safe, easy to use, and can provide routine alloy sorting and grade identification in as little as two to three seconds.
The unit provides accurate compositional analysis of a variety of metals and alloys and can detect up to 37 elements, including light elements such as magnesium. The built in library contains over 400 material grades, and its programming capabilities allow for the easy addition of additional materials, including unusual and proprietary grades. The analyzer can readily identify low alloy steels; tool steels; stainless steels; nickel and nickel alloy steels; copper alloys; cobalt base alloys; zinc alloys; aluminum and its alloys; titanium; specialty alloys; and exotic metals such as gold, silver, platinum and rhodium.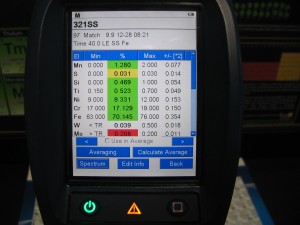 The easy to read screen provides fast material sorting.  It can be adjusted to display easily distinguishable color coded pass/fail alloy criteria or programmed for specific, individual element limits to the governing material specification.
If you have a need for in house or field alloy sorting and identification please contact our staff by phoning the office at 937-298-9390 or via email:
Dan Reynolds, Technical Sales – dan.reynolds@americantestingservices.com
Walt Custer, Metallurgical Lab Manager – walt.custer@americantestingservices.com