If you drive north or south on I-75, you've surely noticed that something has changed.  The 36 foot banner pictured at right was installed by Select Signs on the highway side of our new location in mid-October.  This temporary banner will be in place until our LED lit sign is ready for installation.  This should be happening in the next few weeks.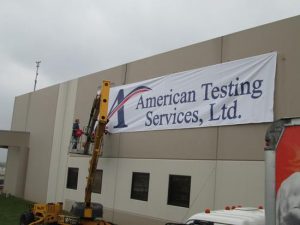 There has been a lot of other progress that you can't see!  Our general contractor, Wilcon Corporation, has been busy making the modifications needed to prep the building for our move.  You can see photos of this progress on our Facebook page.
• The warehouse floor is being cut so that drain lines can be installed.
• A pit that will house our ultrasonic immersion tanks has been dug.
• Wall forms for our radiography vaults are being constructed so that the concrete walls can be poured.
• New concrete pads for our HVAC system supplied by Rieck Services have been poured.
If you've ever moved a business, you know there is a lot of other "behind the scenes" logistical work that has to happen to keep everyone operational.  Much work has been done with Buckeye Business Solutions (our IT vendor), VerCom and Gem City Telcom Consulting (our phone vendors), and Time Warner Cable to prepare for a smooth transition.
If things keep moving at this pace, we should be in our new home before the Christmas holiday!  Check our Facebook page often for more updates!