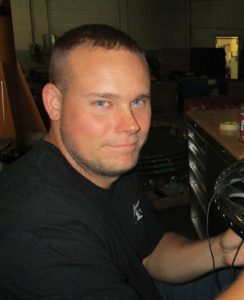 Our Ultrasonic department continues to grow, and this month we'd like to introduce you to the newest member of that team –Eric Porter.
Eric joined ATS at the beginning of August after 12 years of service in the United States Marine Corps, where he gained a great deal of experience in ultrasonic, magnetic particle, liquid penetrant, and eddy current inspection methods.  While he will be focused in the Ultrasonic department, we expect Eric to certify in all test methods soon.
Eric is married with a 12 year old daughter and 6 year old son.  In his spare time, he enjoys working on carpentry projects – a skill he learned from his dad.