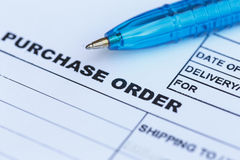 You're in a hurry. You have to get a job processed as quickly as possible.  Your customer wanted his order yesterday.  It still has to go through testing.  To save some time, you decide to just skip the paperwork.
Not so fast! Including clear and concise information on a purchase order can alleviate a lot of confusion.
When a purchase order is not filled out correctly A LOT of things can go wrong. Assumptions may be made by the individual receiving your order.  Or, the processing of your order may come to a screeching halt while someone tries to reach you to get clarification.  Either way, you are not getting the results you need in a quick and efficient time frame.
When ordering testing services – especially when asking for a certification of parts – it is critical to address the following items on your purchase order:
Full Name and Address of Your Company
Part Number or Drawing Number
Serial Numbers
Quantity of Parts
Date of Order
Date Completion Required
Specification / Procedure Number and Revision
Acceptance Criteria
Special Instructions, which might include:

Your Customer (ex. Honeywell, GE, or Rolls Royce)
If a S400 or Government Witness is Required
Documentation is critical, and the testing process cannot be performed without it. So take a few extra minutes to be sure you've provided all the information necessary to get your job off started off right.
It's advisable to send your purchase order ahead by email or fax so that your testing vendor will be expecting delivery of your parts.  However, whether or not the purchase order is sent in advance, a copy of that purchase order or a packing list should always be included with your parts for identification and traceability.  Then your order can move smoothly through the testing process, giving you quick and accurate results.  And that will make you AND your customer happy!