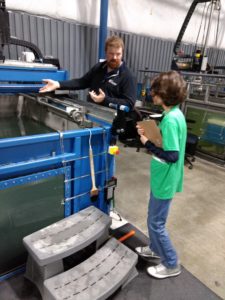 At American Testing Services, we are always on the lookout for ways to encourage the next generation to consider a career in the non-destructive testing industry.  We were happy to partner with Dayton Regional STEM School during their Job Shadow Program held earlier this month.  Ninth grade student Aden Rhoton contacted us for this project to get a first-hand look at the typical day for a technician in our field.
Up first was a tour of our facility, followed by witnessing inspections in the ultrasonic immersion system, computerized radiography, fluorescent penetrant and magnetic particle inspection areas. Technicians incorporated scientific concepts into their explanations, such as how capillary action is integral to the fluorescent penetrant process.  In addition, Aden visited our Metallurgical Lab where he saw a demonstration of positive material identification (PMI) and was shown the process of machining and preparing samples for testing.
Aden had the opportunity to ask the staff questions about the training and certifications needed to perform their tasks and also how they personally got into this field.  Later in the day, Aden interviewed a member of the management staff to ask about prospects for employment in this industry and what traits we look for in new hires.
Thanks for visiting with us Aden! We wish you the best of luck in pursuing a future in this vibrant industry.
Contributed by:
Paul Drerup
Operations Manager