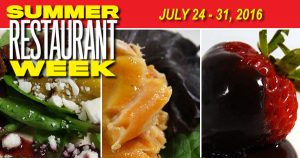 If you follow the Dayton restaurant scene, you are familiar with this special event that comes around twice a year – Restaurant Week!  Sponsored by the Miami Valley Restaurant Association, Restaurant Week is held January and July.  And it's the perfect opportunity to step out and try some of the great food being served up around the Miami Valley.
During both the summer and winter versions, local restaurants offer specially priced three-course meals. Prices are typically lower than the establishments everyday offerings (meals are priced at $20.16, $25.16, or $30.16), so it's a great opportunity to try new locations and new dishes.  Restaurants benefit from being able to draw in new diners.  Most participating restaurant are independents, so diners are really supporting the local community.  And as an added bonus and warm fuzzy, a portion of the proceeds are donated to charity making Restaurant Week a WIN-WIN-WIN!
The promotion was started in January 2006 as a way to generate some restaurant business during a traditionally slow time of the year. Dayton's winter weather combined with a post-holiday lull make January a tough month for restaurants.  The success and popularity of Restaurant Week with both the restaurants and diners led to the addition of a Summer Restaurant Week event.
This year Summer Restaurant Week is scheduled for July 24 – 31. Click here for a list of participating restaurants and menus.  My mouth is already watering from reading the choices!  Check often as restaurants are added to the list.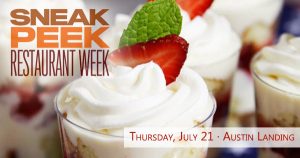 Prefer more of a sneak peek experience? Visit Austin Landing tonight for the Sneak Peek to Summer Restaurant Week for a chance to be one of the first to sample the Summer Restaurant week offerings from 15 participating restaurants.  The event runs from 5:30pm to 8:30pm.  Tickets are $20.16 in advance and $25 at the door – get yours quickly, as tickets are expected to sell out.  Get more details here.
In celebration, over the next week or so we'll be sharing Chris Small's past reviews of participating Restaurant Week establishments on social media.  Be sure you are following us on Facebook, Twitter, and LinkedIn!  We want to hear about your Restaurant Week experiences, so add your comments!
Contributed by:
Joy McMeekin
Logistics Manager