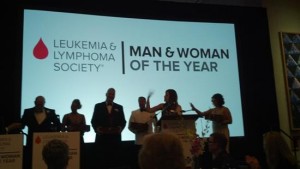 A big thank you goes out to everyone who supported Chris Small's Leukemia & Lymphoma Society Man of the Year Campaign!  The campaign wrapped up on Friday, May 15th with a Grand Finale event at The Ponitz Center at Sinclair Community College.  While Chris wasn't the winner of the Man of the Year title, his campaign did raise $64,000 to support the efforts of LLS, far surpassing his goal of $50,000! We couldn't have done it without your support!
A huge "CONGRATULATIONS goes out to Man of the Year winner Robby Poteat (University of Dayton Athletics) who raised over $108,000 and Woman of the Year winner Martha Shaker (Concept Rehab, Inc.) who raised over $185,000! In total, the eleven candidates raised a record breaking $804,699 in support of LLS mission to rid the world of blood cancers!  An amazing accomplishment by all!
Please take a few minutes to watch the candidate video shown at the Grand Finale.  We hope you will continue supporting the incredible advances in the fight against all cancers funded by the Leukemia & Lymphoma Society.