It's almost time for the fall XTREME BOTS competition to invade the Nutter Center!  This is a program where students customize remote-controlled robots to face off in competition. The robot building process captures student's imaginations as they design, construct and compete with their own robotic creations. Through practical application, students gain knowledge of Science, Technology, Engineering and Math – all essential skills for manufacturing.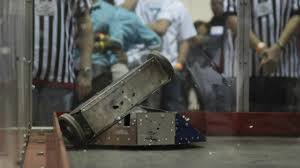 The competition is organized by Ohio Robotics, a 501(c)(3) not for profit charitable Ohio corporation that exists to offer workforce development solutions starting in the Dayton, Ohio region and growing throughout the state.
The Chaminade-Julienne High School team mentored by ATS will not be competing this fall, but we encourage everyone to go out and support the competition!  Get more details at http://madeinohio.us.
Xtreme BOTS Competition Fall 2014
Hosted by Wright State University
Date: November 22nd
Location: Wright State University Nutter Center , Arena (Gate 9) 3640 Colonel Glen Hwy., Dayton, OH 45435