It's true. Manufacturing has a problem.  As an industry, manufacturing is facing a possible skills gap.  As current workers retire, fewer young people are entering the manufacturing workforce.  Within the next decade it is predicted that 2 million jobs could go unfilled.
What's at the root of this problem? It's not that jobs aren't available.  It's not that wages are poor.  It's not even that manufacturing facilities are unsafe, undesirable places to work.  The real problem is that students are not exposed to manufacturing and the opportunities that exist.  And why would anyone be interested in a field to which they have never been introduced?
Enter MFG Day.  This national movement gives manufacturers an opportunity to open their doors to their communities and showcase, in a coordinated effort, what manufacturing is – and what it isn't.  With a heavy focus on middle school and high school students, we are able to take charge of the industry's public image, introduce a new generation to what manufacturing has to offer, and begin to address the skilled labor shortage.  Statistics show that positive exposure to manufacturing makes students twice as likely to pursue a career in the field.  That's a win all the way around – an industry critical to the nation's economy maintains a strong, healthy workforce and Americans everywhere have the opportunity for stable, well-paying jobs – now and into the future.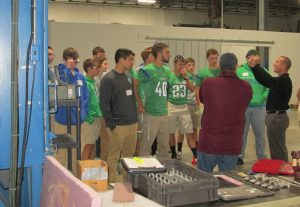 It's no secret that manufacturing is an important industry to Ohio as a state and Dayton as a local community. As of this writing, there are 1,368 MFG Day events registered for this year's event on Friday, October 7th – 94 in the state of Ohio (third highest in the nation) and about 30 in the Dayton area.  The Dayton Region Manufacturers Association has helped to connect host companies with schools desiring to visit.  It's anticipated that we will surpass the 3,500 students who were able to visit manufacturing facilities in 2015.  Not only is that great exposure for the manufacturing industry, that is great community building between our businesses and schools.  The more we support each other, the stronger we all become.
If you are a manufacturer, I hope you are participating in MFG Day.  If you are an educator, I hope you will take students on a tour.  If it's too late for you to get involved this year, I hope you are already thinking about participating in 2017.
If you are a community member, I hope you will support this industry and encourage those within your circle of influence to consider manufacturing as a viable career option. We can't say we want "Made in America" if we aren't willing to will do the making.
Join MFG Day and see what there is to discover.
Contributed by:
Joy McMeekin
Logistics Manager