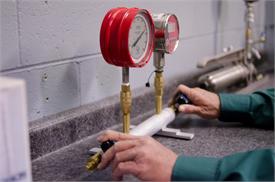 When sending pressure gauges in for calibration, be sure to list range of use on your purchase order.  Range of use is defined by the pressure at which your gauge is operated.  For example, ASTM E 1417-05 states that water pressure to remove penetrant shall not exceed 40 psi.  If you set the pressure regulator at 30 psi, your range of use might be 20 to 40 psi, with 30 psi being one of the test points listed.
A great way to state this on your purchase order is as follows:  "must verify, at a minimum, the range of 20 psi to 40 psi with 30 psi to be one of the test points."  This will likely prevent a write up from your next auditor!
The ATS Calibration Lab is A2LA accredited and services a wide range of equipment used in non-destructive testing and commercial manufacturing.  Let us help you with your calibration needs!  Visit our website for a full list of equipment serviced.  For pricing or to schedule service, contact Dan Reynolds or Tim Davis via email or call them in the office at 937-298-9390.