Earlier this year I was nominated by the Leukemia & Lymphoma Society (LLS) to run as a candidate for the Man & Woman of the Year fundraising campaign.  Having both family members and close friends who have suffered from blood cancers gives me a personal interest in this campaign, so I was happy to accept!  My hope is that you will join me in furthering the research being done to cure these diseases.
The campaign runs from Thursday, March 5 through Friday, May 15.  During these 10 weeks, I will be raising a minimum of $50,000 through business sponsorship and the generosity of individual donors.  Every dollar donated counts as a vote!
While there are tremendous strides being made in drug and treatment options, leukemia still causes more deaths than any other cancer among children under the age of 20.  LLS is the world's largest voluntary health organization, and they have dedicated over $814 million toward research and patient services.  Seventy eight percent of all money raised by LLS goes directly toward the mission of finding cures and ensuring blood cancer patients have access to treatments.
I feel very blessed to be part of this incredible campaign, and I'm asking YOU to join my fundraising efforts for LLS by making a tax-deductible contribution.  Donations can be made starting March 5 by mailing a check (payable to the Leukemia & Lymphoma Society) to:
American Testing Services
2000 Old Byers Road
Miamisburg, OH  45342
OR make a secure online donation via credit card on my personal donation page.  You will receive an email confirmation, and I will be notified of your donation.
Thank you for joining with me in this cause!  If you would like more information about this campaign or LLS and the fight against blood cancers, please visit www.mwoy.org/dayton orwww.lls.org.
Sincerely,
Chris Small
---
FOR SALE!
In the market for some inspection equipment but don't want to pay full price?  Be sure to check out the used equipment available for sale on ourwebsite!  The inventory changes, so be sure to check often.
Have a question about a specific item?  Interested in making a purchase?  Please contact either:
Both can also be reached by calling our office at 937-298-9390.
Remember that ATS is also an authorized distributor for new equipment through Spectroline and Parker Research Corporation and for inspection chemicals through Chemetall.  We'd love to help you with any needs you may have.
---
GET TO KNOW THE ATS STAFF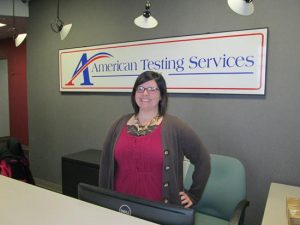 There is a new friendly face at the front door of American Testing Services.  Brittany Lavy has joined our team as our receptionist and is looking forward to greeting visitors and assisting phone callers.
Brittany grew up in New Carlisle and has had past experience working as a receptionist.  Although she doesn't have background in the manufacturing industry, she loves science and is very excited to learn how we do what we do.
Brittany loves to read and travel.  She has been to at least a dozen countries doing mission work.  On her trips she has helped provide medical assistance, distributed humanitarian supplies, taught English as a second language, and facilitated Bible school.
---
GOOD EATS IN DAYTON!
If you know Chris Small, you know he is a big guy with a big appetite!  Chris loves eating out at the many great locally owned restaurants a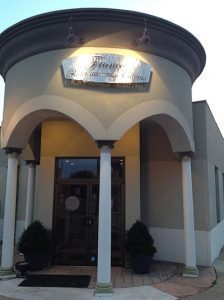 nd pubs in the Miami Valley.  Each month he'll share one of his favorites with you.
Franco's Ristorante Italiano – 824 E. Fifth Street, Dayton, OH  45402 – www.francos-italiano.com
Franco's Ristorante Italiano has been a Dayton classic for years.  It is located at the east end of Dayton's Historic Oregon District.  Franco's culinary experience began in Duronia, Italy.  In 1976, Franco brought his family's recipes and traditions to Dayton, where he has enjoyed sharing delicious Italian cuisine every since.
When I arrive at Franco's, I typically order a Peroni from the bar and either a shrimp cocktail or calamari appetizer – both are a great choice. Choosing a main entrée is always difficult, however, the lasagna is incredible, as is their "World Famoso" spaghetti (a combination of egg, romano cheese, fresh roasted garlic, and olive oil – add mushrooms or their special sausage.)  Franco's offers a wide variety of pasta dishes in addition to fabulous steaks, chops, and rack entrees.  They also feature great salads and fantastic pizza.
Franco's serves an awesome selection of adult beverages, and their tiramisu is the best in town. The atmosphere and service are great and the portions are very generous.
I hope you get a chance to dine at this great Dayton original soon!