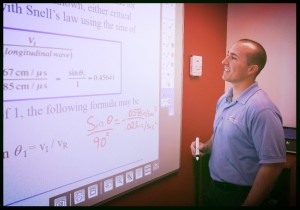 The NDT industry is full of certifications, regulations, and specifications. While that may sound like a headache to some, it really is a good thing.  It ensures that inspections are done properly, that they are repeatable, and that the people performing them are knowledgeable.  Pretty important when you're inspecting airplane parts or checking the weld integrity on a major construction project.
So, if all these regulations exist, you might think all NDT technician training courses are the same. It's true that the content will be controlled in any course certifying technicians to SNT-TC-1A or NAS 410.  But here are some other reasons why we think you should choose OUR training classes:
We're local. Our facility is conveniently located off of I-75 at the Austin Boulevard exit, so we are easy accessible from Dayton and Cincinnati. With Austin Landing and the Dayton Mall in close proximity, there are abundant restaurant and hotel options nearby. And if you are looking for NDT training courses in the Dayton region, you'll find that there aren't a lot of choices. American Testing Services is committed to providing a quality option for our community.
We're affordable. Compare the costs and you'll find that we offer a very competitive rate for our classes. Additionally, our registration fee includes a copy of the latest ASNT training material for each student.
We're equipped. While some companies might clear out a corner of their lab for a class, we offer a dedicated training space in our comfortable conference room. We use the newest inspection equipment to provide applicable hands on training. We've also invested in up to date projection / smartboard technology to provide the best learning experience possible.
We're timely. As with our inspections, we believe in a quick turnaround. Training certificates are emailed on the last day of class, so there is no waiting to receive credentials. You will receive a paper copy by mail as well.  We also maintain training records for all students, in case you should you need a duplicate copy in the future.
We're flexible. If you need a custom class for a specific need, we can provide that. Read more about our custom training services.
Questions about upcoming classes or how to register? Visit our website or contact Dan Reynolds at 937-298-9390 or via email.
Contributed by:
Joy McMeekin
Logistics Manager