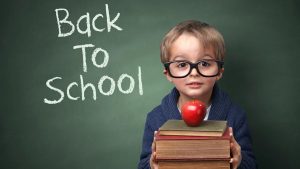 While the heat of summer is still beating down on us, parents and kids of all ages are in the midst of Back-to-School season. Stores are full of pencils, notebooks, backpacks, and every other school supply a student could possibly need.  College students are preparing to move into dorm rooms and will soon realize they have packed more than those teeny, tiny spaces will hold.  The State of Ohio is even helping with all the back-to-school prep by offering a three-day sales tax holiday this weekend.
Our calendar often seems to mimic that of the school year – busy fall through spring with some time off during the summer. So today, all the back-to-school preparations have me thinking about the preparations we always recommend to our customers to ensure an efficient nondestructive testing experience.  Sort of like preparing for a test in school…see the connection? 

First, let's be sure we have all the right study materials. In the world of NDT, we need specifications and any additional customer requirements to prepare for an inspection. Drawings are also very important, as they contain many testing notes.  To be extra prepared, these materials can be sent ahead of your parts.
Students need something to carry all those study materials – a backpack, a messenger bag, a rolling bag. Likewise, it's important to think about how you will package your parts to transport them for testing.  Poor packaging may cause damage to your parts in transit, resulting in higher costs and/or unnecessary waste.
When sitting down to take a test, what is the first thing you should do? Read the instructions!  Purchase orders contain instructions from our customers, and we can't begin the inspection process without them. Be sure your purchase order is complete with clear and concise details that eliminate confusion and allow your parts to move through testing efficiently.
Like a complex math problem, you must complete the steps in the proper order to get the correct answer. If your parts will require some sort of surface preparation, such as plating, painting, or the application of a coating, they should receive magnetic particle or liquid penetrant testing prior to that process.  Otherwise, defects may be masked.
Lastly, don't forget to write your name on your exam. Part traceability is important for many customers, but permanent mark, such as a stamped or etched serial number, isn't always an option. When marking parts in a less permanent manner, be sure to consider the non-destructive testing process to be used and whether or not that identifying mark could be lost.
These analogies might be a little bit of a stretch, but the lesson is valid. Proper planning and preparation (i.e. doing your homework) always leads to a better testing situation.  Need a study guide?  Our technical staff would be happy to consult with you help you achieve better results.  Call our office at 937-298-9390.
Contributed by:
Joy McMeekin
Logistics Manager