One of the benefits of moving to our current facility in 2014 was additional space for growth. In those four years, we have added inspection capacity to each of our non-destructive inspection areas.  We have installed additional magnetic particle machines and a third ultrasonic immersion tank.  Now it is the liquid penetrant department's turn for some new equipment!
To reduce the production bottleneck we were often seeing in this area, our staff designed a custom solution – a larger capacity penetrant inspection line with turntables in key areas.  Now, with two full penetrant inspection set ups, multiple jobs can be process simultaneously. This improves inspection turnaround time for our customers.
The new line has several features that provide better part handling for our customers while making work safer for our technicians.  With roller beds measuring 5 feet wide and an 11-foot-long dryer oven, large parts that were previously processed by hand can move through the line safely with minimal handling.  This also means less water from hand sprayers ends up on the floor, reducing slip hazards for technicians.
Both the wash booth and inspection booth were outfitted with turntables. In both areas, part handling is decreased, which reduces the opportunity for part damage.  In the wash station, the turntable allows technicians to wash penetrant off of parts more efficiently from all angles. Turntables also decrease the amount of weight technicians need to lift, providing another safety improvement.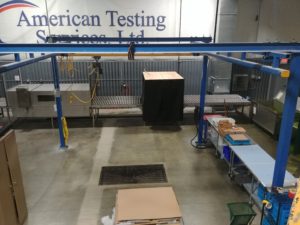 Two Magnaflux ST700 black lights were installed in the new inspection booth.  These overhead LED flood lamps provide an extra wide, even beam of UV-A light to increase the field of inspection.
Automated developer "puffers" were added to both inspection lines, allowing powder developer to be applied to parts in a more even distribution than applying it by hand.  As with the other features, the puffers reduce the number of times parts are touched, with reduced opportunity for damage. They also reduce the repetitive motion of flipping parts and provide another safety improvement for our staff.
Thanks to our friends at Precision Certified Welding for assisting in the construction of this new system.  We are seeing the benefits already!