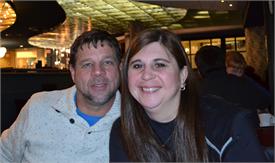 Although very few of our customers ever meet him, Greg Hinds plays an important role on our staff.  Greg has been our on-site technician at Cedar Point in Sandusky, OH since May 2010.  Greg works in the amusement park year-round performing inspections on steel roller coaster track, critical roller coaster train parts, and other ride structures.  Greg is a Level II Magnetic Particle inspector and a SPRAT certified Level I Rope Access technician.  He also holds G3 and G4 welder certifications.  Greg is a big proponent of safety, so he loves that his job helps to make the amusement park a safe place for everyone!
Greg lives in Sandusky with his wife Kelly and daughter Jenna, who is a freshman at Sandusky St. Mary's High School.  Jenna is a tough girl to keep up with, especially in a foot race!  This year she placed 28th in the Ohio High School Division III state cross country tournament.  We are all excited to see what she will accomplish in the next three years!
Every summer Greg's family vacations on Manitoulin Island in Ontario, Canada – a tradition started by Greg's grandfather.  For a couple of weeks they kick back, boat, fish, and swim.  Then it's time to get back to the roller coasters!