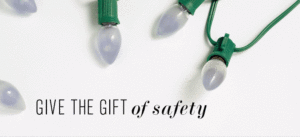 Are you a last-minute Christmas shopper? Maybe even a get-it-all-done-on-Christmas-Eve shopper? Well, the clock is ticking….you have 3 days to get it done.
If you need some last-minute gift ideas, consider giving the gift of safety. These are items we don't really think about needing until, well, we need them. Or maybe we wish we had them after the fact. Here are some ideas for you.
Items for the home:
ABC fire extinguisher
Smoke detector and batteries
Talking smoke detector, if there are small children in the home
Carbon monoxide detector and batteries
Second story escape ladder
Weather alert radio
GFCI extension cord
Items for a vehicle:
Vehicle safety kit including jumper cables, flares, fix-a-flat, tire pressure gauge, reflectors
Car safety hammer, window breaker, seatbelt cutter
Emergency kit including energy bars, water, radio, flashlight and/or light sticks, batteries, and first aid kit packed in a small travel bag
Items for runners or outdoor activities:
Reflective vest
Head lamp
LED belt or arm bands
Shoe lights
General use items:
First aid kit
Flashlight and batteries
Hand crank flashlight
Hand crank radio
Pepper spray
Cut resistant gloves
Portable charger for mobile phone or other devices
This is just a short list – it could go on and on! This year you can say "Happy Holidays" with a gift that just might save someone's life.
Contributed by:
Joy McMeekin
Logistics Manager