If you know Chris Small, you know he is a big guy with a big appetite!  Chris loves eating out at the many great locally owned restaurants and pubs in the Miami Valley.  Each month he'll share one of his favorites with you.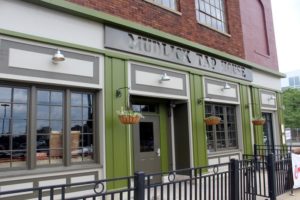 Mudlick Tap House – 135 E. Second Street, Dayton, OH  45402 – http://mudlicktaphouse.com/
The Mudlick Tap House, once located in the heart of Germantown, recently opened the doors to their new location, 135 E. Second Street in downtown Dayton. Since I've done a Good Eats review of the original location, I thought it only fitting that I stop by the new venue to check it out.
The downtown location is spacious with plenty of tables, but I generally prefer to sit at the bar. The staff was friendly and very knowledgeable about the rotating draft list, which carries a wide variety of craft beers.
With the new location, the Mudlick Tap House has an expanded menu. One of my new personal favorites is their chicken and waffles! They use bacon fat confit chicken on top of a delicious honey Belgium waffle, topped with syrup and sprouts.  It's savory and amazing and is offered on their brunch, lunch and dinner menus.
The side items are my favorite part of the Mudlick menu. The smoky mac and cheese is pure comfort food. They also have delicious wilted greens, seasoned with garlic and thick house cut fries with aioli. I hope you enjoy the new location and the great food, service and beverages as much as I did.