Dayton's manufacturing industry was feeling the love in October!  The ATS team was proud to participate in two great events that generated a lot of positive publicity and energy around manufacturing's future.
On MFG Day – Friday, October 4th – we welcomed 69 visitors to our open house.  The vast majority of our guests were STEM students from Chaminade Julienne High School and Dunbar Early College High School, and we were excited to have them!  After a short orientation of what we do, students were able to tour our facility and see inspections in action, including a demonstration by our industrial rope access team.
With the help of Meg Draeger, Chaminade Julienne High School STEM program coordinator, we were also able to arrange for a last minute drive by from the Association for Manufacturing Technology's Smartforce Rally Fighter.  It was a hit with the students AND the adults!  Check out more photos from the open house on our Facebook page.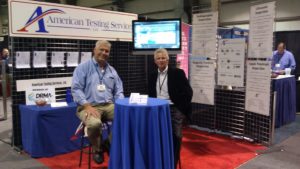 ATS also exhibited at the Advanced Manufacturing Technology Show (AMTS) October 23rd and 24th.  It's the only trade show of it's kind in our area and is always a great opportunity for education, networking, and checking out new products and services.  This year's event featured a new floor plan that made everything really accessible.  The exhibitor booths were sold out, and we even heard that the attendance on Wednesday was higher than both days combined last year!
Thank you to everyone who stopped by our booth!  We enjoyed visiting with you and are already looking forward to next year!