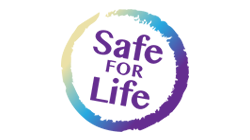 Did you know that June is National Safety Month? Supported by the National Safety Council, National Safety Month focuses on reducing leading causes of injury and death at work, on the roads, and in our homes and communities.
At ATS, safety is really important to us. Our sole purpose is inspecting components to detect any defects that could lead to a catastrophic failure.  And by catastrophic failure, we mean things that could cause serious injury or even death.
While we work to keep others safe, we also focus on keeping our own staff safe while they do their jobs. As an employer we provide training in first aid and CPR, forklift and aerial lift operation, and fall protection, among other topics.  We discuss safety every week during our staff meetings.  In May, our efforts were rewarded by the Bureau of Worker's Compensation.  At the annual Dayton/Miami Valley Safety Council BWC Awards luncheon, ATS received the Group Award for lowest incident rate in each group and the 100% Award for zero injuries or illnesses resulting in a day or more away from work in the previous calendar year.
How about you? What kind of emphasis does your employer place on safety?  Do you focus on safety in your personal life?  During the month of June, we encourage you to join us in using the free National Safety Month resources made available by the National Safety Council.  Each week highlights a different safety topic that is important in both our work and our personal lives:  Stand Ready to Respond, Be Healthy, Watch Out for Dangers, and Share the Roads Safely.
Remember, safety doesn't come by accident. It's the result of choices we make every day.  So choose safe.