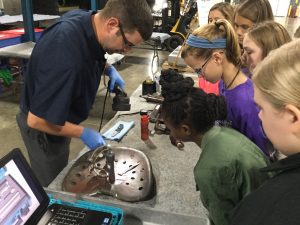 Would you choose a career if you had no idea what you'd be doing from day to day?  Most people wouldn't.
That's why we want today's middle and high school students to see what manufacturing REALLY looks like – it's fast-paced, clean, and high tech. There are well paying jobs at all levels and in all areas of business – from hands on technical staff to sales, marketing, accounting and more.
This is why MFG Day is so important.
Get all the details for our 2018 MFG Day event here.  We are now registering middle and high school groups, as well as home school families. Please spread the word if you know a group that would like to visit us!
Want more information on MFG Day?  Read our August newsletter article.