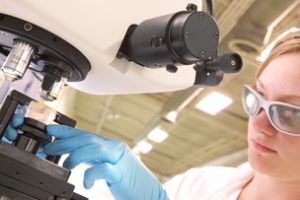 American Testing Services currently is looking to fill our available Materials Engineer position. Qualified candidates should submit resume and cover letter to Walt Custer, Metallurgical Lab Manager via email.
The Materials Engineer will develop testing work orders for incoming work, assure procedures are in place, and perform materials testing. Specific work skills include:
Determination of microstructure constituents and effect on material performance
Non-metallic inclusion content
Weld and braze evaluation
Case evaluation
Evaluation of carburization and decarburization
Recast layer measurement
Coating thickness measurement
Metallurgical sample preparation, Rockwell hardness testing and microhardness testing skills are required. The ability to interpret specifications and to write clear, concise test reports is expected.  Responsibilities also include assuring calibration of metallurgical and physical testing equipment, as well as assuring proficiency testing is performed.  Some failure analysis responsibility may be added with experience.  The applicant must have the written and verbal communication skills to work with customers in determining their testing requirements and to explain test results.
Company Benefits
Competitive salary
Medical, dental, and supplemental insurance
401K Plan
Paid Holidays
Paid Time Off