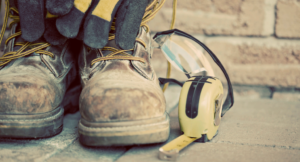 When it comes to comfort, nothing beats a really well broken in pair of boots. If you are standing on the shop floor for eight hours a day, you WANT your feet to be comfortable.  And it's not easy to break in those steel-toed boots. It takes time. It takes commitment.
You wear steel-toed boots for the safety factor. In the manufacturing industry, there is a strong likelihood that Occupational Safety & Health Administration (OSHA) rules necessitate that your employer require you to wear them. They can save you from injury due to falling objects, from cuts and lacerations, from burns and punctures. New boots with new tread are even a good protection from slips and falls.
But if you've been breaking those boots in for a year or more, chances are the tread is wearing out. Just like the tires on your truck, they are only good for so many miles before they need to be replaced. Without a good tread, your boots have just gone from safety shoe to safety hazard. A smooth shop floor can easily become a slip hazard.  Any number of oils or other chemicals used in your manufacturing or inspection process increase this risk.  Winter weather adds another risk of melted snow and slush tracked in from the outside.
So, now I'm going to tell you to buy new boots, right? But you don't want to lose that broken-in comfort. So let me ask you, are your boots in otherwise good condition? To be considered good condition, consider the following:
The safety toe cap and/or metatarsal guard has not sustained impact.
No part of the steel toe has become visible and the boot does not show other types of surface degradation.
There has not been a puncture that penetrated the sole of the boot.
They were not designed as static dissipative, conductive, or electrical footwear (these should be replaced frequently in order to provide adequate protection).
Did they pass?  If yes, consider finding a cobbler or shoe repair shop to replace the tread. You've improved the slip protection AND maintained comfort.  Problem solved.
Contributed by:
Joy McMeekin
Logistics Manager