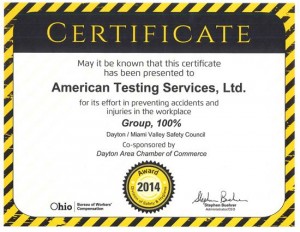 The Dayton/Miami Valley Safety Council held its annual Bureau of Workers' Compensation Awards on May 20, 2015.  American Testing Services was proud to receive the 100% Award for the fourth year in a row!  This award is presented to companies having zero injuries or illnesses resulting in a day or more away from work in the previous calendar year.
We also received the Group Award for a second consecutive year.  The Group Award is presented for the lowest incident rate in each group.  Congratulations to our staff for always making safety a priority!
---
THANK YOU FOR SUPPORTING LLS!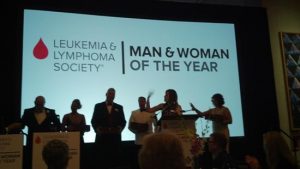 A big thank you goes out to everyone who supported Chris Small's Leukemia & Lymphoma Society Man of the Year Campaign!  The campaign wrapped up on Friday, May 15th with a Grand Finale event at The Ponitz Center at Sinclair Community College.  While Chris wasn't the winner of the Man of the Year title, his campaign did raise $64,000 to support the efforts of LLS, far surpassing his goal of $50,000! We couldn't have done it without your support!
A huge "CONGRATULATIONS goes out to Man of the Year winner Robby Poteat (University of Dayton Athletics) who raised over $108,000 and Woman of the Year winner Martha Shaker (Concept Rehab, Inc.) who raised over $185,000! In total, the eleven candidates raised a record breaking $804,699 in support of LLS mission to rid the world of blood cancers!  An amazing accomplishment by all!
Please take a few minutes to watch the candidate video shown at the Grand Finale.  We hope you will continue supporting the incredible advances in the fight against all cancers funded by the Leukemia & Lymphoma Society.
---
LOOK FOR ATS ON THINK TV
On May 5th our new facility doubled as a film location for a Rieck Services underwriting spot for Think TV.  American Testing Services has partnered with Rieck for our HVAC needs for many years, and we were honored when they asked us to take part in this promotional opportunity.  See some photos from our day of filming by clicking here.
The final product has just been approved and should begin showing on local channels 14 & 16 in the next week or so.  Keep an eye out and let us know when you see it!
---
NEW VIDEO COMING TO THE ATS WEBSITE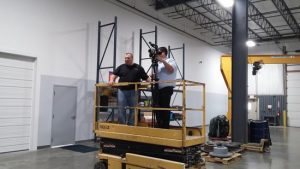 Also in May, we shot footage with Atomic Interactive for a new company promotional video.  This video will feature our new facility and give viewers an overview of our services and capabilities.
The finished product will be coming to our website –  www.americantestingservices.com – soon.  We'll be sure to let you know when it's live!  Until then, enjoy some photos from our day of filming!
---
GET TO KNOW THE ATS STAFF
As ATS continues to grow, we would like to introduce you to Jim Egbert. Jim has only been with ATS three short months but he brought 20 years of NDT experience with him, and we are excited to have him join our team. As a certified level II inspector in liquid penetrant and magnetic particle inspection, Jim says he really enjoys working on the aerospace parts that come through our facility. His favorite part of the job is the diversity of components he gets to inspect each day.
When Jim is not working he spends his time with his wife, and three children ranging from age 2 through 6.  He says he is an outdoors man and really enjoys biking. When the weather is not so nice, Jim enjoys doing mechanical work on cars.
---
GOOD EATS IN DAYTON
If you know Chris Small, you know he is a big guy with a big appetite!  Chris loves eating out at the many great locally owned restaurants and pubs in the Miami Valley.  Each month he'll share one of his favorites with you.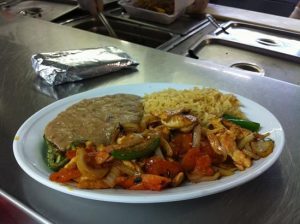 Taqueria Mixteca – 1609 E. Third Street • Dayton, Ohio 45403 – www.taqueriamixteca.com
If you enjoy authentic Mexican food, THIS is the place to go to in Dayton. BUT, if you are expecting a beautiful facility with great ambiance, you're going to be disappointed.
As at most Mexican restaurants, your server will bring you chips and salsa.  If you like guacamole, theirs is incredible. I personally like the Enchiladas Rancheras, which is three red sauce enchiladas with your choice of meat (I prefer pork/carnitas and grilled chicken/polo asado) with cheese, lettuce, tomato, sour cream, rice and beans. They offer a lot of great lunch specials as well.
The beverages are limited to fountain drinks or Mexican bottled fruit drinks, coffee, milk or bottled water. They also serve great desserts. I hope you enjoy their food as much as I do!