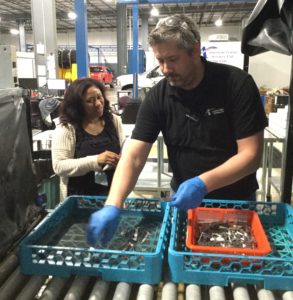 The terms "workforce development" and "workforce pipeline" are used a lot in discussions surrounding the manufacturing industry.  Mostly in a negative or worrisome context – as in, automation means fewer jobs and as the labor force ages, there is going to be a shortage of workers entering the manufacturing industry.
A lot of research has been done and many articles have been written about the manufacturing industry's image problem and the lack of younger workers having interest in manufacturing jobs.
There is a quote that applies here – "if you're not helping to make it right, then stop complaining about it being wrong."  Meaning, those of us working in manufacturing need to take every opportunity possible to proactively change the future for our industry. That's why American Testing Services was excited to participate in Project Trade.
Project Trade is a program sponsored by the Miami Valley Career Technology Center Staff Development Committee allowing teachers to spend time job shadowing mentors in their program area.  By doing so, they have a better understanding of the real-world skills their students will need in the workforce and can tailor lesson plans to help prepare them.
On February 20 and March 10, Markeata Lee, a second-year chemistry and earth science teacher at MVCTC, spent time observing and learning about the various inspections we perform for the manufacturing industry.  Overall, six teachers from MVCTC participated in Project Trade this year.
After two full days of interacting with our non-destructive testing, metallurgical, and calibrations staff, I asked Markeata what things she would be able to take back to her students.  She told me two of her biggest take away lessons were:
Work with patience and take your time. A process might have many steps and some that seem tedious, but they are all important.
Maintain an attitude of learning. Regardless of how long you have been doing a particular job, we are constantly training and acquiring new skills. Don't assume you already know everything.
Good reminders for all of us, wouldn't you agree?
See more photos from Markeata's visit on our Facebook page.